Anti-static Metal Wire Shelf Transport Cart
Categories: Latest News
Stars: 3Stars
Visit:

-
Release time: 2021-01-04 17:33:00
  Use Place: Electronic factory, electronic workshop assembly line, warehouse
  We are a professional factory of producing adjustable wire shelf utility cart for more than 11 years. Per our sales experience,we found many clients are mis-understand chrome finish wire shelf cart be stainless steel cart, as their color looks very close, but actually,the material of chrome finish cart is carbon steel,which price cheaper 3-4 times than pure stainless steel.
  Wire shelf cart,the post is round tube design,height adjustable in every 2.5cm distance. The shelf structure is like cobweb design with four shelf collar, can bear high loading weight,besides,mesh open design is good for goods storage and won't get mildew.
  Our Factory currently exports more than 60 countries, annual turnover of more than 100 million, exports including traders, cross-border e-commerce ,besides,we also has domestic market,welcome you to contact us for more business discuss.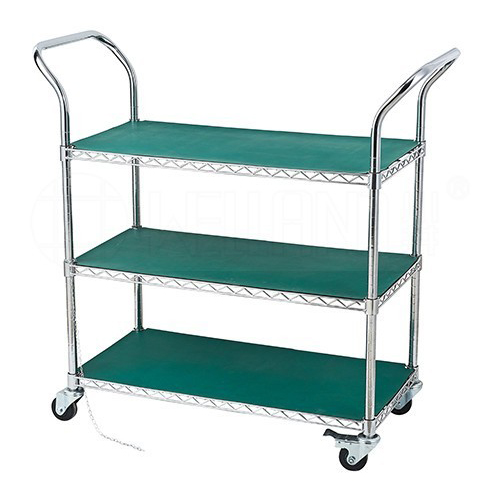 l ITEM No:TR9045106A3CW
  l Name:Anti-static Metal Wire Shelf Transport Cart
  l Product Size:L900xW450xH1060mm
  l Loading Weight:250KGS/Shelf
  l Surface Finish:Chrome
Recommended Products