Heavy Duty Commercial Kitchen Wire Rack with Wheels
Categories: Latest News
Stars: 3Stars
Visit:

-
Release time: 2021-01-04 17:45:00
  Scope of use : Bakeries, Restaurants
  Project Details:
  Restaurants and bakeries used to use traditional shelves for storage, with the passage of time and the progress of times, people find that the traditional shelves was out of date. It is not fully functional, and it is short life. So the idea of replacing new shelves gradually came into being.
  Our production of wire shelving style, its mesh grid shape, ventilated and dry, convenient to take items from all sides. Each layer can adjust the height at willing, can DIY layers and height you needs. The surface is treated with spray powder, which can be certified by the SGS testing, ensuring clean and environmental protection. This shelves good for commercial kitchen, cold room storage, factories storage and other places, can be said to be a widely using.
  Shelves usually consist of wire shelves, posts and parts. K/D packing way with export standard five layers brown box to save packaging volume and transportation costs.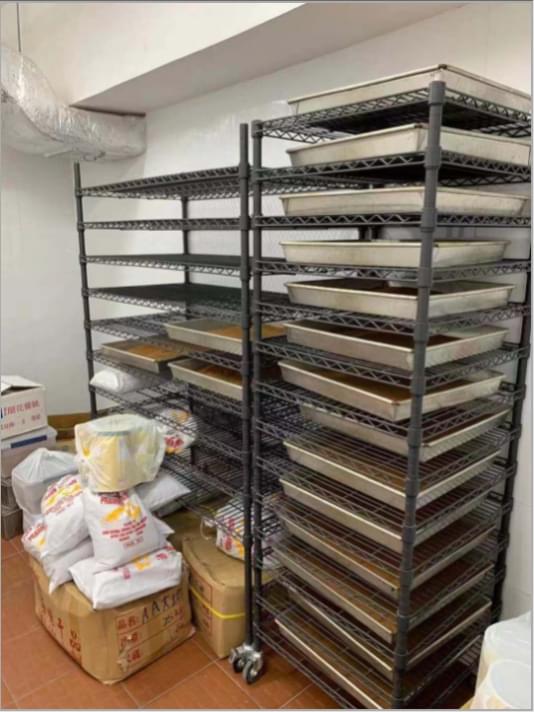 Product Details:
  Item No.: CJ9060200A14EW
  Item Name: Heavy Duty Commercial Kitchen Wire Rack with Wheels
  Item Size: L900 x W600 x H2000 mm
  Loading Capacity: 250kgs per shelf
  Finish: Powder coated ( Different colors for your choice)
Recommended Products