Hot sale e-commerce business big metal wardrobe
Categories: Latest News
Stars: 3Stars
Visit:

-
Release time: 2021-12-04 11:27:00
 Hot sale e-commerce business big metal wardrobe
  Per our sales experience in 2020-2021 year, we found adjustable garment closet rack is more and more popular in the market, especial for E-commerce business. Here we'd like to share our following big metal wardrobe.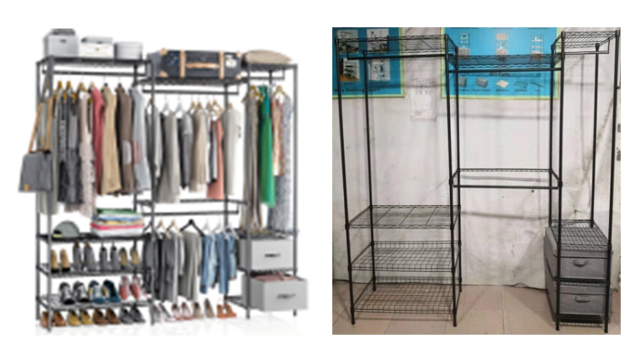 Product name: Big Metal Wardrobe With Drawer Box
  Dimensions: L1790×W450× H1950mm (including wheel height);
  Pipe diameter: 19x1.0mmT;
  Wire Gap: 25mm;
  Surface Finish: Spray powder half light black
  Components :
  3 pieces 75x450cm wire shelf
  2 pieces 75x450cm shoe shelf
  4 pieces of 35x45cm wire shelf
  3 pieces 75cm clothes rails and 1pieces 35cm clothes rails
  1 pieces 75x45cm door shape frame
  8 pcs connected post
  80 pcs plastic clips.
  8 black adjustable feet
  1 set of anti-reverse accessories
  2 light grey pack boxes with handle screws
  1 wrench.
  Product selling points:
  1, each set of products with two drawer boxes, increased storage convenience and practicality, also improve the product grade, suitable for the European and American market sales.
  2, high-quality powder treatment, special anti-rust ability, in line with the ideal requirements for the use of products.
  3, the product is composed of all DIY components, installation and removal is very simple, convenient, and mesh frame using wave line mechanical structure, good load-bearing capacity (load-bearing capacity can reach 30 kg / layer), very consistent with household clothing and other small items.
  4, Post is connected structure,can pack inside the shelf to save packing size,decrease the freight cost for customer.
Recommended Products