How to choose a suitable carbon steel metal wardrobe
Categories: Latest News
Stars: 3Stars
Visit:

-
Release time: 2020-08-01 16:33:00
  Women are looking forward to having a separate, spacious cloakroom, but such a cloakroom needs plenty of space, which is just not what everyone can do. The simple carbon steel metal wardrobes on the market are no less than the cloakrooms, especially suitable for small households, saving space and meeting the desire of mini cloakrooms. At the same time, for people who rent a house outside a particularly friendly, simple wardrobe is a small assistant to save space. Modern and simple design can bring a comfortable home experience.
  Them how to choose a suitable carbon steel metal wardrobe? We'd like to recommend WELLAND metal Wardrobe for you
  Carbon Steel Metal Wardrobe
  WELLAND Metal Wardrobe,There is always one for you.More details, contact us now!!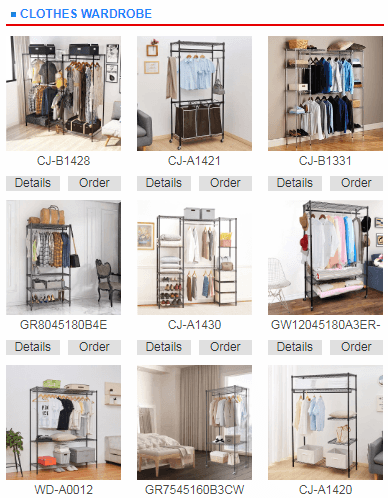 Simple wardrobe is also a wardrobe, need to have stable structure,the thickness of post dia. and surface finish quality are need to consider when you make choice.
  Moreover,we have to pay attention on the post connect structure,compare with insert post,connector post is more stable and high loading weight.
  Adjustable carbon steel metal wardrobe,each layer can hold 40-50kg, easy assemble, feel free to adjust each layer height.
  This kind of open all-carbon steel wardrobe is relatively simple, the composition of the shelf is also very easy, the actual effect of storage finishing is also very good, saving indoor use space, the remaining space can be fully utilized. Peripheral cloth cover also played a dust- and moisture-proof effect, beautiful and practical.
  Simple carbon steel metal wardrobe can save most cost for you.
Recommended Products