Introduction to our wire shelf posts
Categories: Latest News
Stars: 3Stars
Visit:

-
Release time: 2021-01-04 16:43:00
 Introduction to our wire shelf posts
  We Chang Sheng have been in producing wire shelf for more than 21 years, one of the most import wire shelf part is post.Until now we do have four different posts according to different post diameter.Please check the following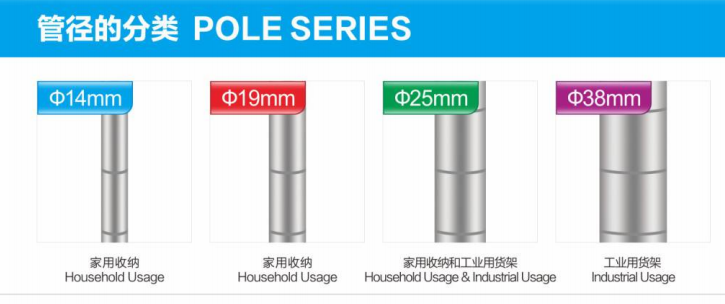 14MM post usually for house hold wire shelf such as dish racks ,wine racks,closet wire shelving,kitchen trolley,bathroom racks and so on.
  19MM post usually also used for home storage wire shelf such as kitchen racks,living room storage wire shelf and so on
  25mm post usually for both home storage wire shelf and commercial wire shelf.
  For home storage wire shelf, the thickness usually done is 1.0mm.However for commercial wire shelf, the thickness usually done with 1.2mm.And these posts are widely used in heavy duty wire shelf,stainless steel heavy duty wire shelf,commercial restaurant wire shelf and so on
  38mm posts usually for commercial wire shelf,until now, we use it on the stainless steel trolley which is purchased by a USA customers
  For all these posts, you can do in connected type, you also can do in one piece type,the loading weight is the same.


  For more information about commercial wire shelf, please contact us export@zs-cs.com
Recommended Products