Recommend Household Bathroom Rack Factory- Zhongshan Changsheng
Categories: Latest News
Stars: 3Stars
Visit:

-
Release time: 2020-10-06 16:06:00
 Recommend Household Bathroom Rack Factory- Zhongshan Changsheng
  Home iron wire mesh rack popular to be home collection items due to it's advantage of easy assemble and high loading weight.
  home bathroom shelf is a shelf placed in a family bathroom room to store bathroom supplies. Generally used for the placement of bath milk, shampoo, face wash, hair clips, toothpaste, combs and other small items. Some people do not know how to choose a suitable bathroom rack,don't know what material is really not rusty material. Here like to share some tips of how to choose a desired bathroom rack.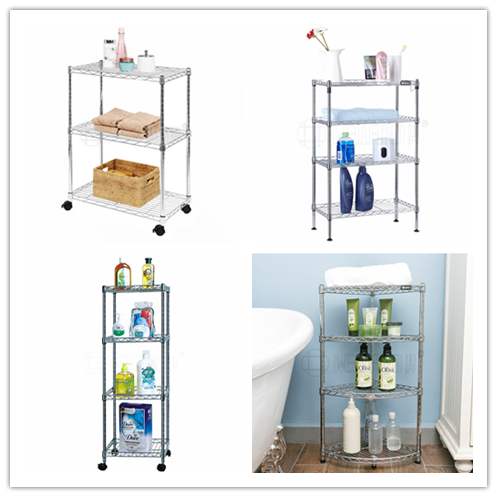 一: There are usually has following material available for home bathroom rack
  1) Stainless steel bathroom rack
  2) Carbon steel bathroom rack
  3) Plastic bathroom rack
  4) Glass bathroom rack
  Stainless steel bathroom rack has good wear resistance and wont get rusty,it can use very long time,but it also costs a lot, very few to purchase for home use.
  Carbon steel bathroom rack is made by carbon steel,it can painting by different color to match your bathroom design. Carbon steel material is a cost-effective one,it is easy assemble and knock down,loading weight 30kg per shelf,with powder coating finish can make it's rusty capacity more better.
  Glass bathroom is generally made of tempered glass, the shape is simple, but generally need to be installed hanging fixed to the wall, be careful to avoid the glass surface by a strong impact, more commonly used in commercial bathrooms.
  Although the plastic bathroom rack has corrosion-resistant, rust-free, light weight and so on, but its load-bearing capacity is not good, not strong and durable, low cost-effective, a few people will choose.
  Below is our suggestion to choose carbon steel bathroom rack
  Choose a suitable shelf size to meet the space of your bathroom,there are full size available in Zhongshan Changsheng.
  Choose a suitable height and layer bathroom rack,popular layer are 3 and 4,height can be 90cm or 120cm.
  Choose epoxy finish carbon steel bathroom rack,it can use in wet environment and has better anti-rusty capacity than chrome finish,moreover,it's price more cheaper.
Recommended Products