Recommendation of 3 tier hot sale mini corner wire shelf rack
Categories: Latest News
Stars: 3Stars
Visit:

-
Release time: 2021-08-05 15:42:00
 Recommendation of 3 tier hot sale mini corner wire shelf rack
  According to our export sales date in recent month,we'd like to share following 3 tier hot sale mini corner wire shelf rack for all Asia & South America customer,it can be put in kitchen,living room for vegetables, kitchenware and meat storage.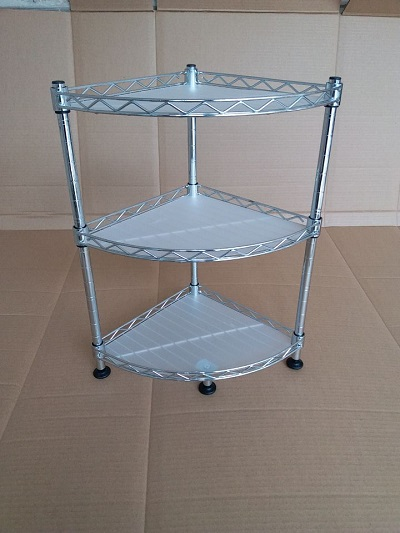 Here is the product photos ( item no. CJ-C1181)
  Product Name: 3 Tier Mini Corner Wire Shelf Rack
  Size: L250×W250×H450mm
  Surface finish: chrome plated
  Consist of 3 pcs fan-shaped shelf and 3pcs one-piece post and 3pcs PP mat and 18pcs plastic clips and 4pcs leveling feet.
  Product Features:
  1) Shelf frame facing up structure to avoid goods fall off, 3pcs PP mat makes the shelf more flat and good for small staff store.
  2) Adjustable wire shelf design, each layer height can be adjustable, each layer can load 30kg.
  3) High quality chrome plated surface finish,can pass salt-spray testing in 24 hours with grad 7-8 level
Recommended Products