Share message of New commercial basket cart
Categories: Latest News
Stars: 3Stars
Visit:

-
Release time: 2021-05-05 15:58:00
  Share message of New commercial basket cart
  According to the records of most of our customers who purchased commercial shelving basket carts, we hereby recommend our new commercial basket cart to you. This product is mainly used in hospitals, clinics, warehouses and other commercial areas for storage, and is mainly sold in Europe, America and Australia market.
  The following is a clear picture of the product: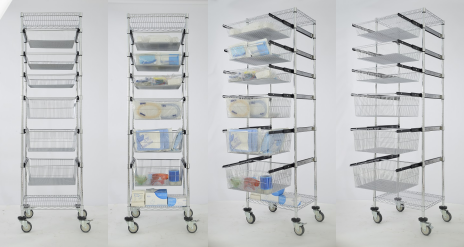 Product Name: Eight - layer drawer basket commercial cart
  Material: Carbon steel +PU wheel
  Size: 610×460×H1960mm (including wheel height)
  Finish: chrome plating
  Consist of :
  4 pcs connected posts of Φ25mm+
  2 pcs wire shelves of 24 "x18" (diameter: Φ6/ x 4.8/ x 4.5/ x 3.5mm, wire gap: 20mm) +
  3 pcs wire basket (610x460mm, basket depth :100mm, wire gap :10mm,) +
  3 pcs wire basket (610x460mm, basket depth :200mm, spacing :10mm) +
  6 left U guide rails (450mm long) +
  6 right U guide rails (450mm long) +
  1 set of 4 "PU wheels (2 with rear brake, 2 without brake) +
  4 black donut bumper+
  64 black plastic clips.
  Product selling points:
  1. The surface finish of the product is high quality chrome plating, which has strong anti-rust ability and meets the needs of consumers for the use of commercial products.
  2. The product has 6 pcs baskets with large storage capacity, which can greatly meet the needs of consumers.
  3. the product is composed of DIY components, installation and dis-assembly is very simple, convenient, and the mesh frame using wavy mechanical structure, good load-bearing capacity (load-bearing capacity can reach 100~150kg/ layer).
  4. the product design is modern, simple and fashionable, beautiful appearance, firm structure, excellent quality, favored and recognized by the majority of consumers.
  5. K/D packing way is used to reduce packaging volume and transportation cost. The following package picture is attached for your reference: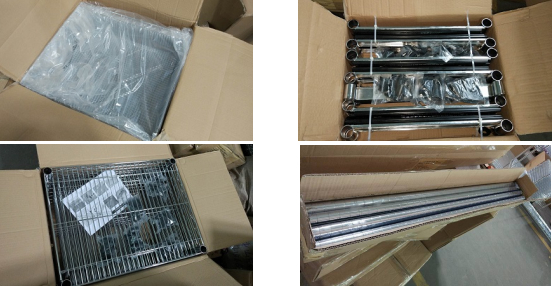 Recommended Products