Welland Brand new design metal wire garment rack
Categories: Latest News
Stars: 3Stars
Visit:

-
Release time: 2021-12-04 13:30:00
  Welland Brand new design metal wire garment rack
  According to the recent records of our customers' customized wire shelving this year.Let's share with you our newly developed special household hangers.This product is mainly used to store clothes and clothing in family bedrooms or cloakrooms.This product sells well in European and American markets.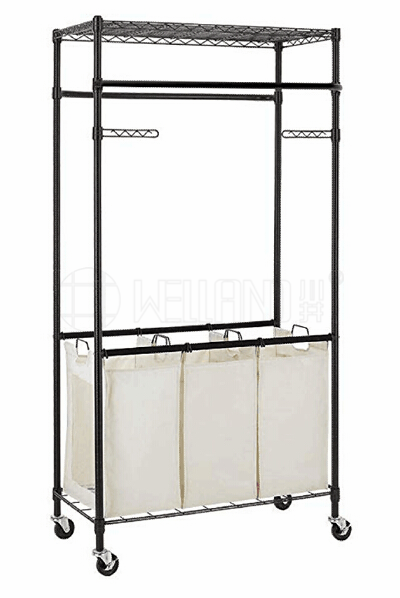 The following is the product picture (Item Code: GR9045186A2E-LH)
  Product name: household special hanger
  Size: 900×450×H1860mm(with wheel's high)
  Pole Dia: 25x1.0mmT
  Finishi: Coffe color
  Consist of :
  2 pcs wire shelves and
  4 pcs connection poles and
  4pcs hanger rails with two collars and
  2 pcs single support rails and
  3 pcs laundry bags and
  1 set 2"PP caster
  36 pcs black clips
  Product features
  1.After the surface of the product is treated with high-quality brown powder spraying, it has a strong anti-rust ability, It is enjoyed European and American markets for the use of the product.
  2. The product is composed of all DIY parts, installation and disassembly are extremely simple and convenient, and the shelf frame uses a wave line mechanical structure, which has a good load-bearing capacity (the loading capacity can reach 30kg/layer).
  3.The product structure is novel, with 3 laundry bags, which can store changed clothes, and with 2 rotating single waves, it can also hang clothes hangers, towels, etc., which is more thoughtful and suitable for consumers. Home use purpose
  4.The product design is modern, simple and fashionable, with exquisite appearance and high quality, and is well received and recognized by consumers.
  5. The product structure is sturdy, durable and economical and practical, and has always won a good reputation and recognition from customers.
Recommended Products