Stainless Steel Worktable Kitchen Table Rack with Wheels
 Range of Application: Commercial kitchen, cold room and factory
  Project Details:
  The customers in the catering industry have some requirements on the sanitation and environmental protection standards of the kitchen. Especially, the bigger the restaurant is, the higher the requirements will be.
  For example, McDonald's chain stores will require that the storage rack or work table used by 304 stainless steel, so as to ensure vegetables, meat and potatoes that are directly placed on, and it will not affect the deterioration of the food. WELLAND stainless steel worktable, the top board is made of 304 stainless steel materials with 1.0mm thickness, the stainless steel include 8% nickels. The bottom layer is made of carbon steel chrome-plated wire shelf.
  Pole is made of 25 diameter. Multiple specifications are selected. Smooth surface is very hard, can be directly to chop meat and bones, far different from the market inadequate stainless steel iron material, with casters can be moved to another place at will, can also be used in cold storage or wet low temperature environment.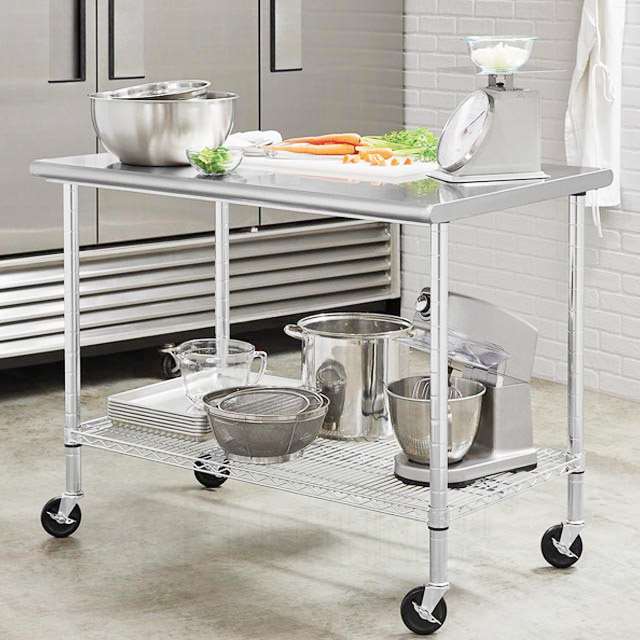 Project Product:
  l Product Model:T495243875W2SS
  l Product Name:Stainless Steel Worktable Kitchen Table Rack with Wheels
  l Product Size: 49.5"x24"x38.75"
  l Each Shelf Loading:350kg per shelf
  l Surface Finish:Stainless steel 304
Recommended Products